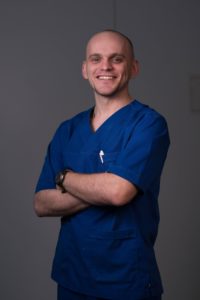 Посада: хірург-онколог відділення пухлин печінки, підшлункової залози та онковаскулярної хірургії.
Спеціалізація: загальна хірургія, судинна хірургія, онкохірургія.
Основні напрями наукових та практичних досліджень: місцево розповсюджені, граничнорезектабельні пухлини підшлункової залози, метастатичний колоректальний рак, місцеворозповсюджені пухлини заочеревинного простору, в малому тазу із втручаннями на магістральних судинах, перитоніальний карценоматоз.
Наявність науково-практичних публікацій: Автор 5 наукових статей присвячених хірургії стравоходу, метастатичному колоректальному раку та лікуванню раку підшлункової залози із резекцією магістральних судин.
Участь у конференціях, семінарах, симпозіумах: 2013-2014 р. брав участь у щорічній конференції European society of thoracic surgery.
З 2015 року учасник конференцій під егідою International Hepato-Pancreato-Biliary Association, The European Pancreatic Club.
Членство в організаціях:
– Асоціація хірургів України
– The European Pancreatic Club
– International Hepato-Pancreato-Biliary Association
Контакти:
тел:+380 (67) 995-34-59
e-mail:[email protected]
Зв'язок у  Facebook 
Held positions
National cancer institute
Kiev, Ukraine
Surgical oncologist
June 2015 – current time
World Health Organization
WHO Euro regional office
Consultant at NCD department, Cancer control team, European office
Consultant at NCD department, Cancer control team, Ukraine office
April – July 2022
January – current time 2023
Central military hospital, Ministry of Defence
Kiev, Ukraine
Surgeon
September 2014 – may 2015 Postgraduate Education
UICC technical fellowship Basingstoke and North Hampshire Hospital, Basingstoke, United Kingdom
ESSO training fellowship
Sheba Medical Center, Israel
June – July 2019
February – March 2019
Postgraduate course in ginecologic oncology
PL Supik Kiev Medical Academy of Postgraduate education
Kiev, Ukraine April – June 2018
Kiev, Ukraine
Postgraduate course in vascular surgery
Ukraine military medical academy
March – May 2017
Fellowship in surgical oncology
Zaporizhzhia, Ukraine
SI Zaporizhzhia Medical Academy of Post-Graduate Education, Ukraine
September 2015 – February 2016
General Surgery Residency
Kiev, Ukraine
PL Supik Kiev Medical Academy of
August 2012 – August 2014
postgraduate education, Ukraine
General Surgery Residency
Odessa, Ukraine
Odessa State Medical University, Ukraine
August 2009 – June 2012
Medical Degree
Odessa State Medical University
Odessa, Ukraine
Medical Doctorate Program (6-year degree)
September 2003 – June 2009
Date of Graduation: June 30, 2009
Memberships
– Ukraine society of surgical oncology
– European society of surgical oncology
– European society of gynaecological oncology
– European society of clinical oncology
– Central and Eastern European Gynecologic Oncology Group
Research Experiences and Publications
Head of clinical research group: "Treatment of peritoneal surface malignancies" since September 2017
Original article:
Working title: "Analysis of risk factors for recurrence in cervical cancer patients after fertility-sparing treatment: The FERTIlity Sparing Surgery retrospective multicenter study" – co-author
Status: published – Am J Obstet Gynecol 2022 doi: https://www.ajog.org/article/S0002-9378(22)02188-3/fulltext
Original article:
Working title: "Experience with the use of HIPEC in advanced serous ovarian cancer after complete and optimal cytoreduction" – co-author
Status: published – Exp Oncol 2021, 43, 1, 67 – 72 doi: 10.32471/exp-oncology.2312-8852.vol-43-no-1.15984
Original article:
Working title: "Timing of surgery following SARS-CoV-2 infection: an international prospective cohort study" – co-author, member of Dissemination committee Status: published – Anaesthesia. 2021 doi: https://doi.org/10.1111/anae.15458
Original article:
Working title: "SARS-CoV-2 vaccination modelling for safe surgery to save lives: data from an international prospective cohort study" – co-author, member of Dissemination committee Status: published – British Journal of Surgery. 2021 doi: https://doi.org/10.1093/bjs/znab101
Original article:
Working title: "Lymph nodes dissection in advanced ovarian cancer" – co-author Status: published – Reproductive Endocrinology. (55), 90-93, 2020 doi: https://doi.org/10.18370/2309-4117.2020.55.90-93
Original article: Working title: "Establishing of Peritoneal Surface Malignancy Treatment Program: Background in Ukraine, Patient Selection, Staff Schedule, Perioperative Outcomes of First 28 Patients" – author Status: published – Indian Journal of Surgical Oncology. 11, pages263–267(2020) doi: 10.1007/s13193-020-01056-z
Original article: Working title: "Hyperthermic intraperitoneal chemotherapy (HIPEC) in combined treatment of locally advanced and intraperitoneally disseminated gastric cancer: a retrospective cooperative Central-Eastern European study " – co-author Status: published – Cancer Medicine. 2019;00:1–9. doi: 10.1002/cam4.2204
Original article: Working title: "Surgical treatment of the locally-spread and recurrent solid tumors of abdominal cavity and retroperitoneal space with nephrectomy ex vivo ex situ and renal autotransplantation. " – co-author
Status: published doi.org/10.26779/2522-1396.2018.11.61
Original article:
Working title: "Surgical treatment of tumoral pathology with affection of the main vessels of small pelvis" – main, corresponding author
Status: published
doi.org/10.26779/2522-1396.2018.02.32
Abstract Working title: "How can collaboration with surgical oncologist change paradigm in the treatment of advanced ovarian cancer: a retrospective cohort study?" Status: published – International Journal of Gynecologic Cancer Nov 2019, 29 (Suppl 4) A483; doi: 10.1136/ijgc-2019-ESGO.939
Abstract
Working title: "Treating of peritoneal surface malignancies in low-income countries. Is It worthwhile?"
Status: published – Pleura and Peritoneum 2018; Volume 3, Special Suppl. 1, pp sA76
Abstract
Working title: "Hyperthermic intraperitoneal chemotherapy (hipec) in combined treatment of locally advanced and intraperitonealy disseminated gastric cancer: a retrospective cooperative central- eastern european study"
Status: published – Pleura and Peritoneum 2018; Volume 3, Special Suppl. 1, pp sA171–sA172
Abstract
Working title: "Parenchymal sparing liver resections"
Status: Poster presentation on the 10th EFR congress in Vienna, April 20-22, 2017
Abstract
Working title: "Surgical treatment of epiphrenic diverticulum of esophagus."
Status: Abstracts on the V (67) International students and young scientists congress
"Actual problems of modern medicine" October 23-25, 2013, Kiev, Ukraine
Extracurricular activities
1. Collective translation of the book
– Schein's Common Sense: Prevention and Management of Surgical Complications: for Surgeons, Residents, Lawyers, and Even Those Who Never Have Any Complications.
Chapter 11 The Intensive care unit.
– Cytoreductive Surgery & Perioperative Chemotherapy for Peritoneal Surface Malignancy 2st Edition. Chapter 3 Cancer chemotherapy for peritoneal metastases: Pharmacology and treatment; Chapter 7 Epithelial ovarian cancer with peritoneal metastases
2. Founder and moderator of National cancer institute journal club since December 2018
3. ENYGO national representative 2019 – 2021
4. Member of advisor committee of Ministry of Health of Ukraine on National Cancer Control Program 2020 – 2030
5. Member of working group of experts, developing draft specifications and conditions for the procurement of health services under the Program of Medical Guarantees of the National Health Service of Ukraine 2020 – nowadays
6. English – B2