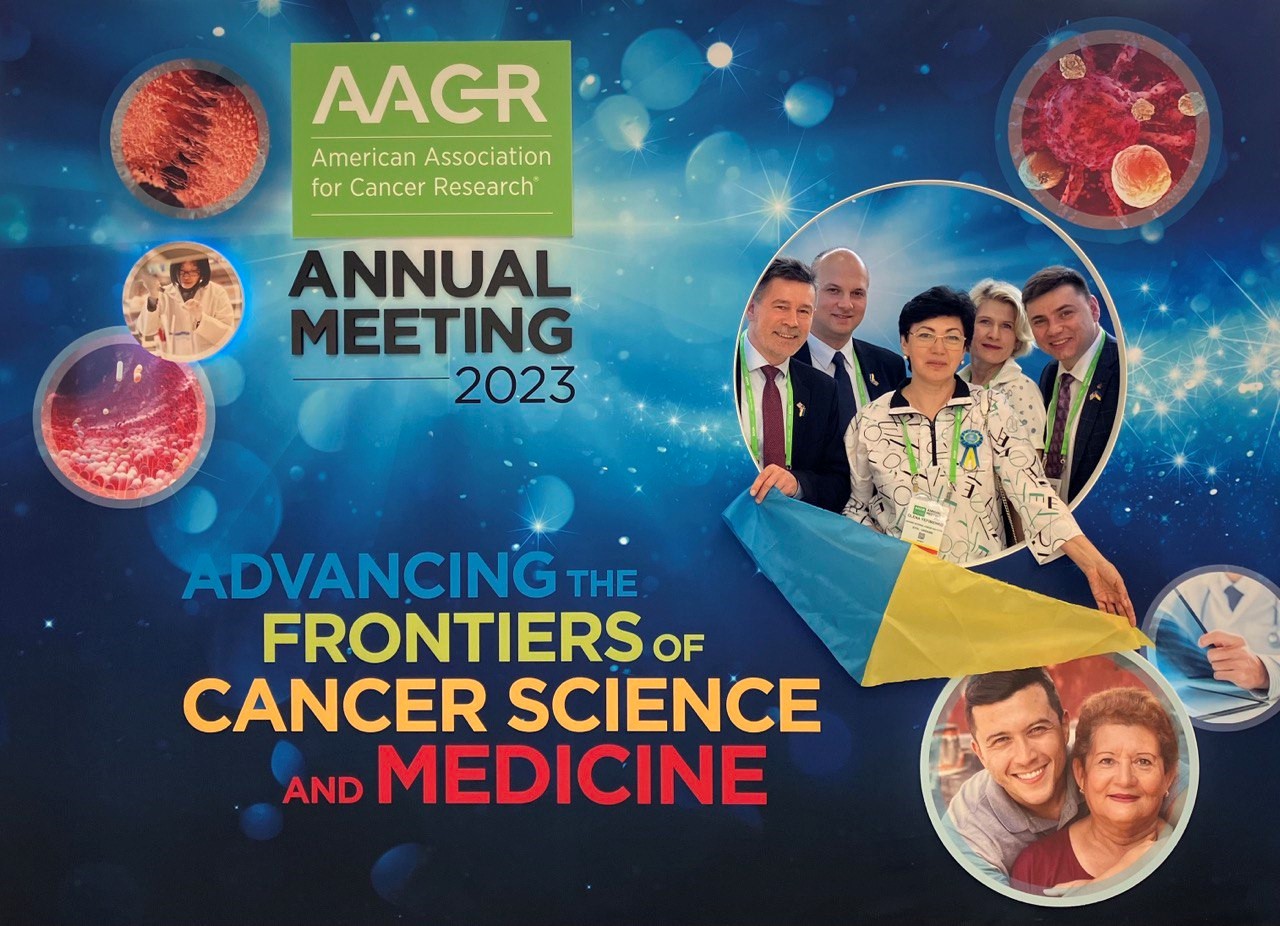 Serhii Kozhukhov, MD, Doctor of Medical Sciences, Head of the Cardio-Oncology Center, Head of the Department of Clinical Pharmacology and Cardio-Oncology of the State Institution "State Scientific Center "M.D. Strazhesko Institute of Cardiology, Clinical and Regenerative Medicine of the National Academy of Medical Sciences of Ukraine".
Olena Yefimenko, MD, Director General of the National Cancer Institute of the Ministry of Health of Ukraine
Stepan Krulko, MD, Medical Oncologist, Surgical Oncologist, the Director of TomoClinic private cancer clinic
Liudmyla Ostrovska, MD, PhD in Medicine, Director of Audubon Bioscience in Ukraine
Emily Hubbard, Director of Audubon Bioscience in the USA
Rostyslav Semikov, MD, Chief Executive Officer of Audubon Bioscience, Founder of Peace and Development Foundation
Today, Ukraine is going through difficult times; a full-scale war has been going on for more than a year. The resilience of the Ukrainian people, the balanced policy of the government led by the President of Ukraine, and the strong support of the world community inspire hope for victory and the country's speedy recovery.
The course for integration into the European Union requires rapid changes both at the governmental and public levels. Everyone in their place should make their contribution – to reform, take the initiative, adopt global experiences, and implement them into real practice.
A vivid example is the participation of the Ukrainian delegation headed by the Director General of the National Cancer Institute of the Ministry of Health of Ukraine, Olena Yefimenko, MD, at the American Association for Cancer Research (AACR) congress, which took place from April 14 – 19, 2023 in Orlando,Florida, USA). Attendance of her delegation to the event was made possible thanks to the support of AACR Foundation, the Ministry of Health of Ukraine, the US Embassy in Ukraine, Audubon Bioscience, and the Peace and Development Foundation.
The AACR 2023 annual congress was attended by more than 21,000 participants from around the world – scientists, doctors, heads of research laboratories, directors of oncology centers and institutes, biotechnology support vendors and other experts in research and the medical field.
AACR is the first and largest association in the world involved in fundamental cancer research. Currently, the organization includes more than 54,000 members from 130 countries around the world.
The mission of the American Association for Cancer Research is to prevent and treat cancer through:
Research
Education
Communication
Cooperation
Scientific policy and protection of the rights of both patients and healthcare professionals
Funding of cancer research
Through its programs and projects, AACR promotes cancer research ranging from etiology, prevention and diagnosis to the distribution of the latest research findings and the implementation of advanced cancer treatment technologies into real-world clinical practice.
During the congress, a new AACR President, Philip D. Greenberg, MD, FAACR, was elected.
Being an internationally recognized innovator in the field of cancer immunobiology, Dr. Greenberg has made groundbreaking contributions to the study of host T-cell responses to pathogenic viral infections. His work has led to a crucial understanding of the mechanisms by which T cells distinguish between tumor cells and normal cells, and has contributed to the development of adoptive T cell therapy approaches in various cancers, including leukemia.
His research has shown that CD4-positive helper T cells work both cooperatively and independently of CD8-positive cytotoxic T cells to kill tumor cells. Since then, this work has become the basis for the development of treatments for melanoma and late-stage leukemia.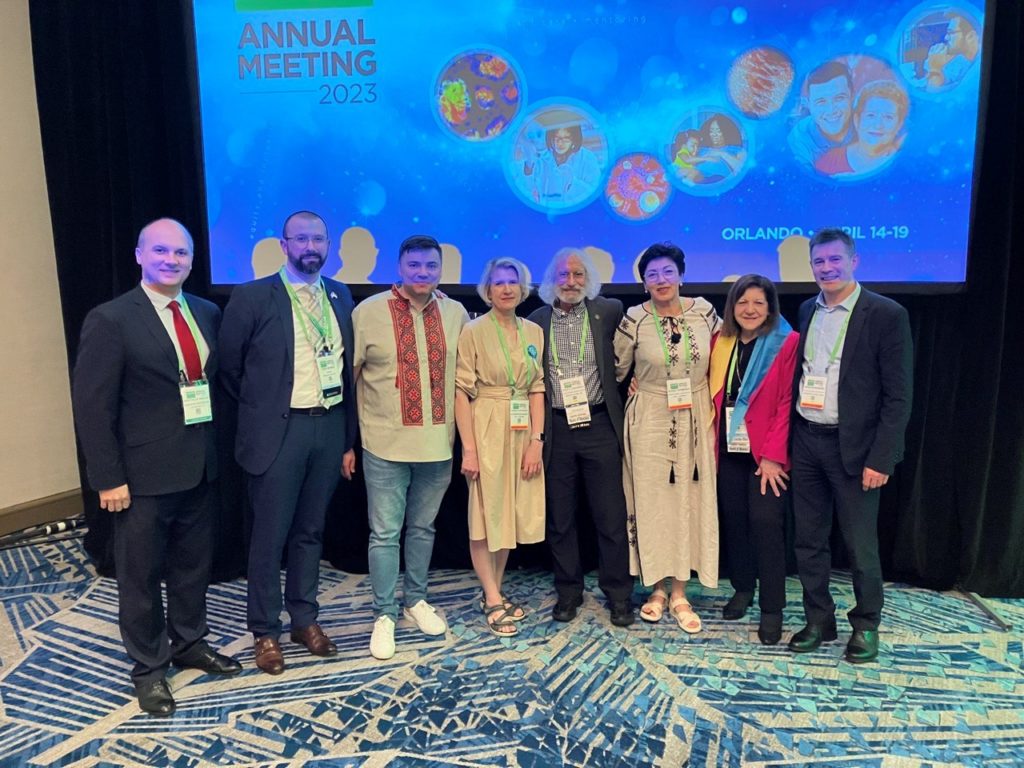 Margaret Foti, PhD, MD (hc), is the Chief Executive Officer of the American Association for Cancer Research. She has coordinated activities related to AACR for many years. Margaret greeted the Ukrainian delegation, wished them fruitful work, and assured them of the association's support.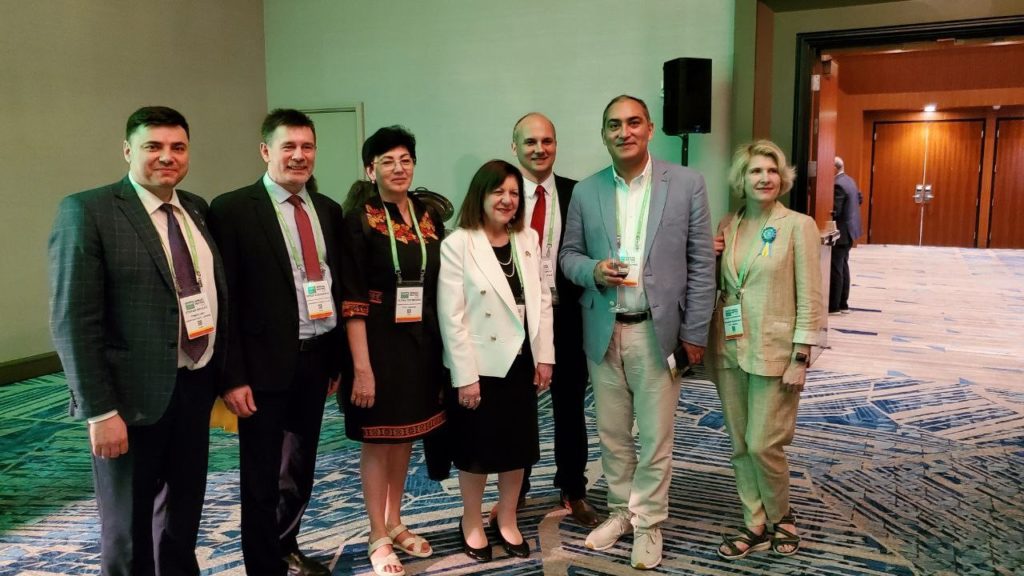 The AACR has 289 members of the AACR Academy, 56 of whom are Nobel laureates. Our delegation from Ukraine had the honor of meeting one of them. This is Professor James Allison, PhD. Allison, under the supervision of Ralph Reisfeld, an onco-immunologist, PhD, professor emeritus, investigated human leukocyte antigens (HLA) and T cells, and explored the role of HLA proteins in helping the immune system distinguish itself from foreign cells.
In 1977, Allison and his colleague G. Callahan reported in a letter to Nature journal that they had found evidence that the immune system was prevented from attacking cancer cells due to antigens' association with additional proteins. Finding the factors that inhibited the immune attack on cancer cells has been the key to developing checkpoint-blockade cancer immunotherapies. Since then, immunotherapy has become a kind of revolution in oncology.
In 1982, Allison first discovered the T-cell receptor. Allison's research to elucidate mechanisms of T-cell responses was conducted in the 1990s at the University of California, Berkeley. In the early 1990s, James Allison showed that CTLA-4 acts as an inhibitory molecule to restrict T-cell responses. In 1996, Allison was the first to show that antibody blockade of a T-cell inhibitory molecule (known as CTLA-4) could lead to enhanced anti-tumor immune responses and tumor rejection.
This concept of blocking T-cell inhibitory pathways as a way of unleashing anti-tumor immune responses and eliciting clinical benefit laid the foundation for the development of other drugs that target T-cell inhibitory pathways, which have been labeled as "immunotherapy". This work ultimately led to the clinical development of ipilimumab, which was approved in 2011 by the FDA for the treatment of metastatic melanoma. Allison's research is in molecular immunology of the T-cell antigen receptor complex, co-stimulatory receptors, and other molecules involved in T-cell activation.
He continues the search for signals that lead to differentiation of naïve T-cells, and also those that determine whether antigen receptor engagement will lead to functional activation or inactivation of T-cells. This approach is used to develop new strategies for the treatment of autoimmune diseases and immunotherapy of cancer. Most recently he has been interested in understanding the immune responses in cancer patients who respond to immunotherapy. He established the immunotherapy platform at MD Anderson Cancer Center to study immune responses in cancer patients.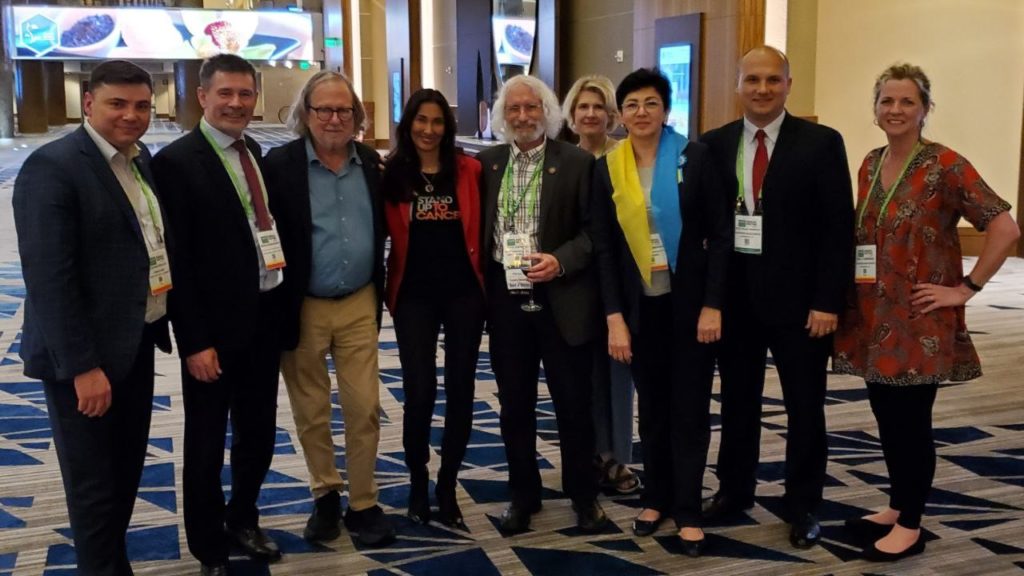 A scientific leader in oncology, specializing in renal, bladder and prostate cancer, Padmanee Sharma, MD, PhD, is focused on understanding resistance mechanisms within the immune system that impact anti-tumor responses. For more than a decade, she has been a principal investigator for multiple clinical trials to improve the efficacy of cancer immunotherapies. Dr. Sharma's work on new pathways to treat prostate cancer implicated for the first time in a human tumor the checkpoint VISTA in inhibiting immune responses. She is a longtime distinguished research collaborator of Jim Allison, and they married in 2014. Dr. Sharma is currently exploring combinations of immunological therapies and targeted drugs in preclinical studies to treat a variety of cancers more effectively She is Professor in the departments of Genitourinary Medical Oncology and Immunology, Associate VP of Immunobiology and the T.C. and Jeannette D. Hsu Endowed Chair in Cell Biology at MD Anderson Cancer Center, Scientific Director for the Immunotherapy Platform and Director of Scientific Programs for the James P. Allison Institute at MD Anderson Cancer Center.
The association publishes 10 peer-reviewed scientific journals, which are included in the scientometric databases of Scopus and Web of Science:
Blood Cancer Discovery;
Cancer Discovery;
Cancer Epidemiology;
Biomarkers & Prevention;
Cancer Immunology Research;
Cancer Prevention Research;
Cancer Research;
Cancer Research Communications;
Clinical Cancer Research;
Molecular Cancer Therapeutics
The Ukrainian delegation had a meeting with the editorial boards of these journals. As a result of bilateral negotiations, a memorandum on cooperation was adopted, namely assistance to Ukrainian scientists in preparing for the publication of scientific works in peer-reviewed AACR journals.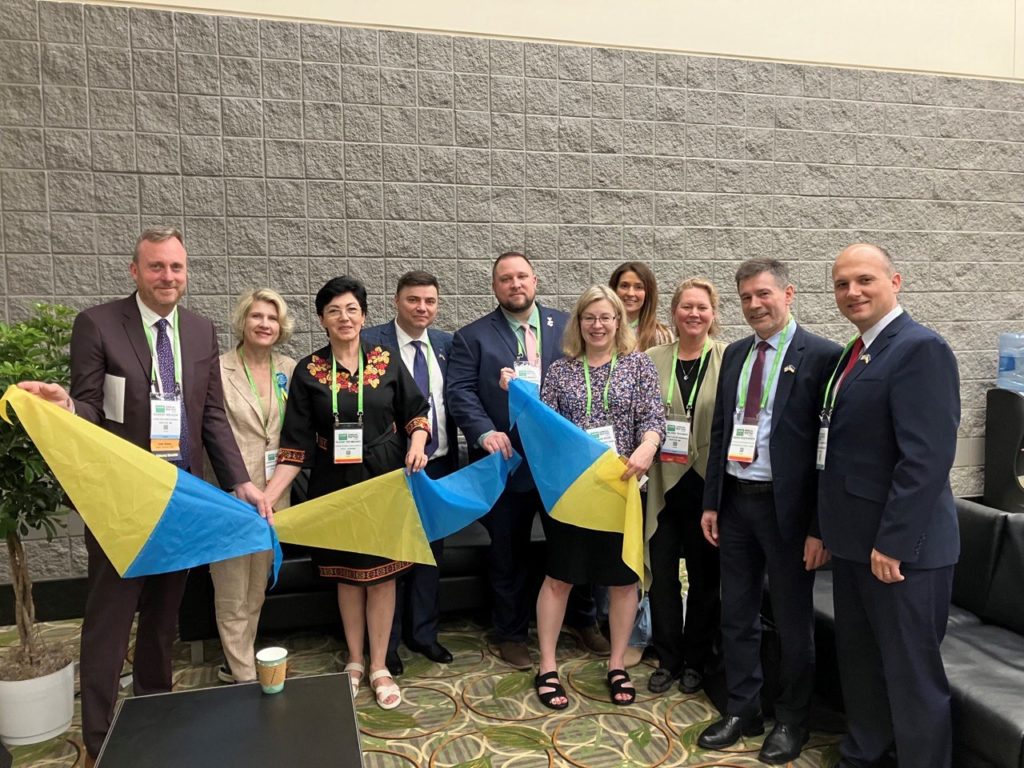 Robert Kruger, PhD, the Publishing Director of Cancer Discovery, was impressed by the heroism of Ukrainian oncologists who, despite the challenges of war, continue to provide qualified care, including to many internally displaced persons. After the meeting, the publishing team offered to interview Dr. Olena Yefimenko. The interview took place in a friendly atmosphere with Suzanne Rose. The goal of the interview was to bring the realities of life, work, and the struggle for a better future for both cancer patients and the whole Ukraine, in wartime conditions, to the global scientific community.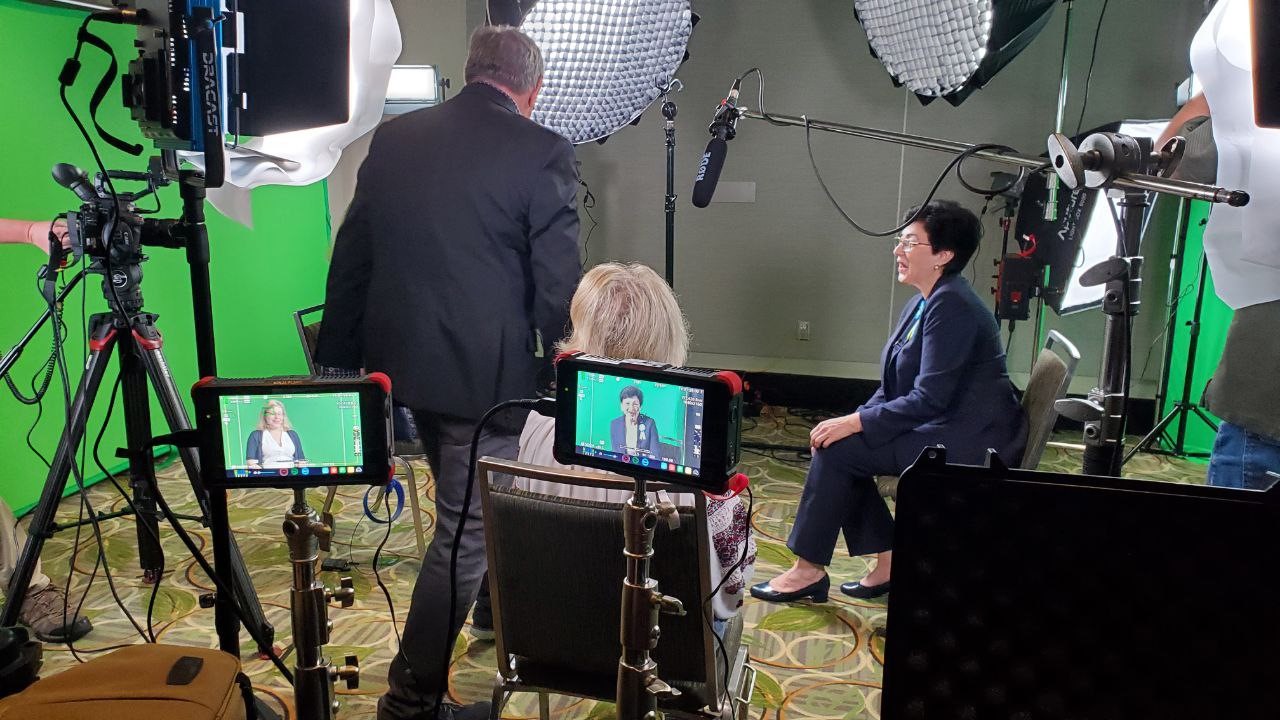 Paul Golberg, the Editor and Publisher of The Cancer Letter, is always ready to help the Ukrainian delegation both in establishing contacts for further cooperation and in spreading information about the realities of life in Ukrainian oncology clinics, of patients, doctors and scientists.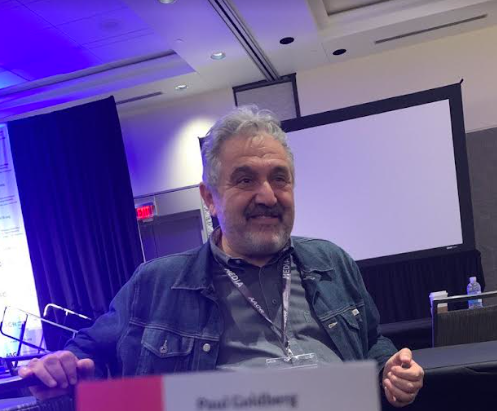 During the congress, the delegation had the opportunity to meet the directors of relevant oncological institutions, universities and organizations engaged in scientific, educational, medical and research activities.
Frederic Biemar, PhD, the AACR Director of the Department of International Affairs, and Bradley Miller, PhD, arranged for Ukrainian group meetings with many directors and leading researchers of world-renown American cancer centers.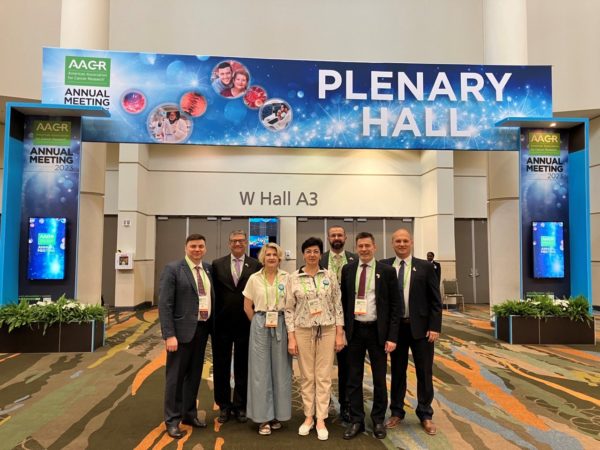 Jonathan Chernoff, MD, PhD, from Fox Chase Cancer Center impressed us with his love for Ukraine, his knowledge of carols and traditions, as well as his desire to help our scientists in the development of science. Laura Bukavina, MD, Urologist at FCCC, helped us communicate and develop a vision for working together in the near future.
After learning about the Ukrainian delegation at the congress, Laura Bukavina, a urologist-oncologist who has been working at Fox Chase Cancer Center for a long time, joined us. From the first days of the war, Dr. Laura and her husband flew to Poland and began to help refugees from Ukraine as volunteers. Subsequently, they arranged the transfer and accommodation of refugees, the supply of medicines and equipment. A number of public organizations and foundations were involved in humanitarian aid, and fundraising was started. Today, Laura helps organize internships for Ukrainian oncologists in leading US clinics.
Together with Dr Chernoff, we discussed the main areas of cooperation (online and face-to-face training/internship of doctors and young scientists, assistance in the preparation of grants) and look forward to our future collaboration.
We also discussed potential areas of cooperation with Joe Ramos, PhD, Director of Louisiana Cancer Research Center. These included training and internships for physicians and scientists, as well as assistance in the preparation of grants.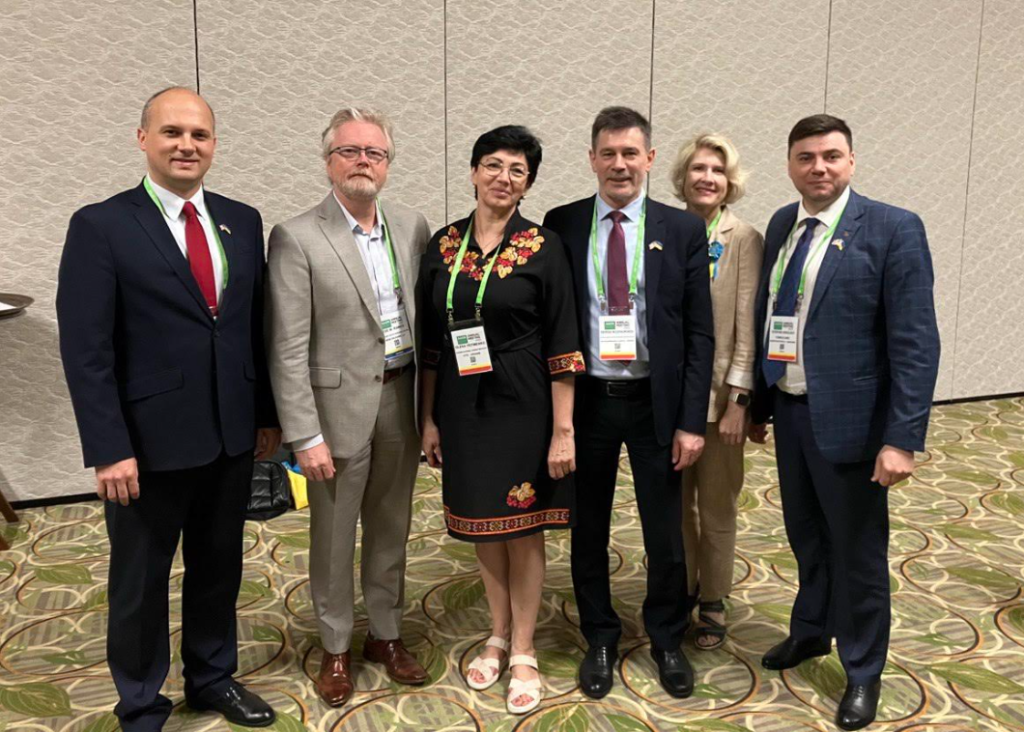 We had an unforgettable meeting with Robert Winn, MD, and Kathy Tossas, PhD, at the event in honor ofthe newly elected President of the AACR, Philip Greenberg. Robert Winn, as the Director of the Massey Cancer Center at Virginia Commonwealth University, leads efforts to create 21st-century models for promoting diversity, equity, and collaboration among oncologists, optimizing cancer outcomes for everyone, and leading interdisciplinary approaches to researching cancer disparities. He and his colleague, Dr. Tossas were very welcoming to our delegation and we look forward to visiting them upon their return journeys to visit colleagues in Cuba and Nigeria.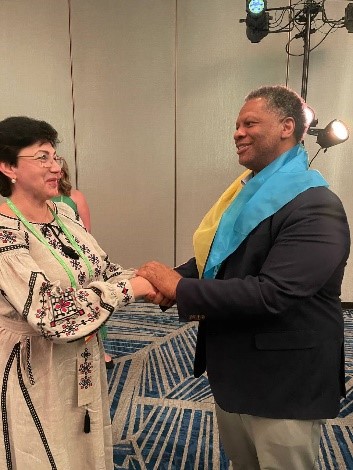 We were pleasantly surprised to meet the famous composer and performer Terry Jordan, who beat cancer three times (throat cancer, prostate cancer, and lymphoma) and became the founder of a charitable foundation that constantly invests in the development of cancer research. This once again confirms that modern cancer treatment technologies are extremely effective and provide the possibility of a full recovery.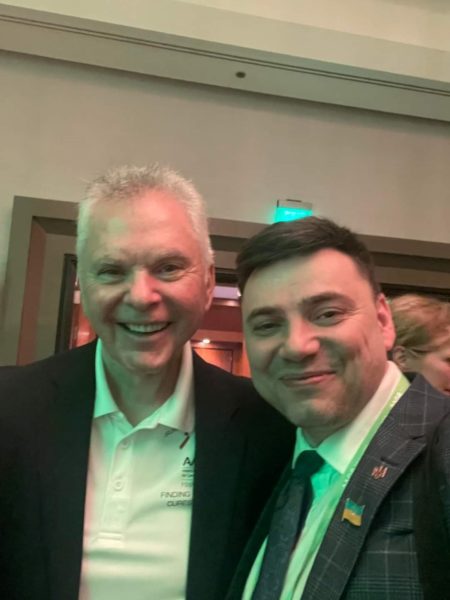 It is important that sponsorship contributions to the development of cancer research are made not only by companies, but also by ordinary people, communities, who invest funds in AACR on an ongoing basis.
It was nice to meet friends from Ukraine who temporarily moved to the USA and are improving their experience as scientists in US institutions. Included among these friends are Dinara Ryspayeva, MD, and Nataliia Verovka, MD. We are grateful to Dinara, who introduced the Director Wafik El Deiry, MD, PhD, FACP and many scientists from her institute, The Warren Alpert Medical School of Brown University.
During the 6-day stay in Orlando, several meetings were held to share experience within the network of clinics Advent Health .
A visit to the Orlando County Oncology Center, a medical campus in the Town of Celebration, and participation in the Tumor Board under the leadership of Mark Socinsky, MD, Medical Director of the clinic, a leading thoracic surgeon-oncologist and Tarek Mekhail, MD, FRCSI, FRCSEd, Medical Director of the Thoracic Department, was especially interesting. This was a collegial discussion of complex cases with a demonstration of imaging and cytological research methods, taking into account archival data and prior treatment, the goal of which was to make a single correct decision.
We are extremely grateful to Bruce Haughey, MD, MBChB, FRACS, FACS, a leading head, neck and skull base oncology surgeon who has been included to the list of America's Best Oncologists and America's Best Doctors since its inception, who came to Ukraine in the 1990s with humanitarian medical missions, and now asked his colleagues to receive the Ukrainian delegation, which made this visit possible. In the break between operations, he came out to meet with our group and discuss the possibility for clinical oncologists from Ukraine to come to his department for training.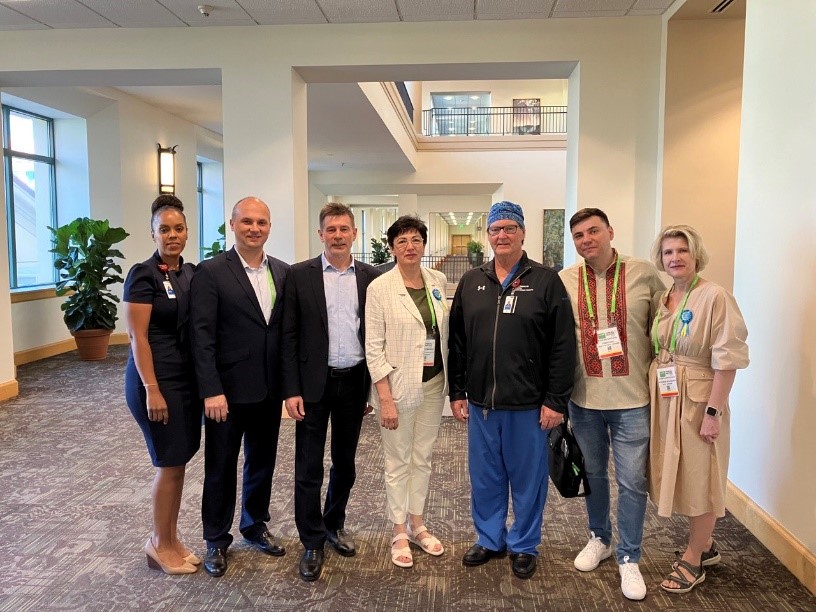 Many thanks to Michell Athanase, MBA, Director of Partnership Development and New Markets, for organizing site visits and meetings with doctors.
This is the chemotherapy department [EH1] , where we got acquainted with the complete patient route – from decision-making (no contraindications), preparation of chemotherapy solutions with double quality control, directly with the process of administration and monitoring of medicinal products, documentation keeping, until completion of a chemotherapy course.
The presence of a music psychologist in the chemotherapy department of the multidisciplinary team was very impressive.
All of this is aimed at an individualized approach to each patient, with the goal of psychosocial adaptation of a patient diagnosed with cancer.
This is a radiotherapy department, where we got acquainted with the most up-to-date equipment, organization of workplaces, safety, both for a doctor and a patient.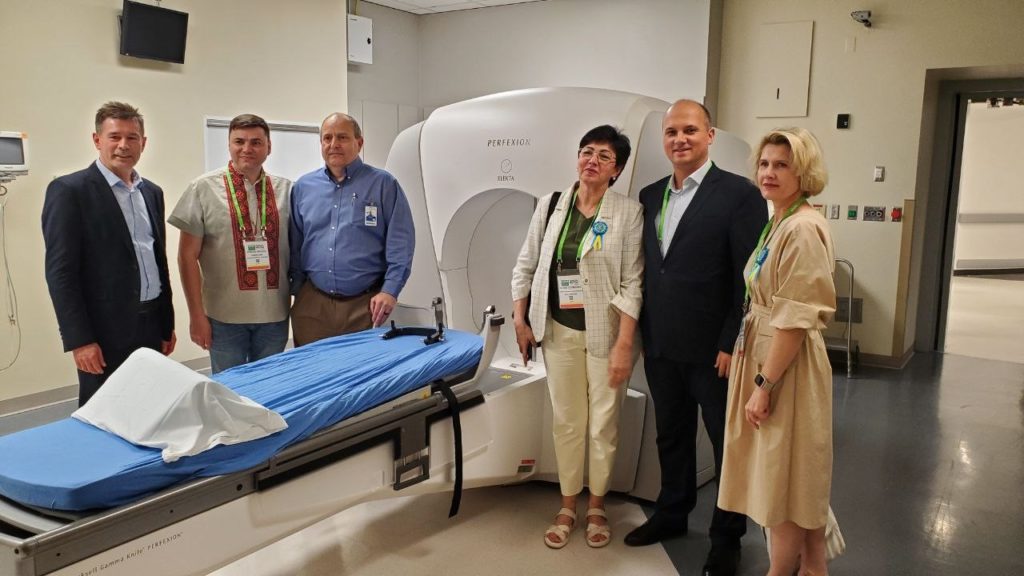 It is also worth noting that every cancer center has a library of pamphlets for patients, where they can read the information about their disease: symptoms, complaints, how the diagnosis process works, types of treatment, possible complications/side effects and how to overcome them. Additionally, there is information on recommended physical activities and proper nutrition. That is, patients can take brochures home and familiarize themselves with all the questions that arise during treatment. This significantly saves the doctor's precious time, which will be focused on making a decision about treatment, monitoring it in the process of complex anticancer treatment. It also allows the patient to take helpful information home with them to read and absorb at their own pace, as a cancer diagnosis can be very overwhelming.
From the very beginning, when a patient with a diagnosis of cancer is first admitted to the clinic, the administrators provide him or her with complete information about the examination plan and further treatment, and provide a folder with the necessary materials, brochures, and contact information.
Any visit to the clinic takes place at a clearly defined time, which prevents crowding of patients or failure in scheduling diagnostic or treatment procedures. The logistics and the route of a patient are worked out as clearly as possible. Everything is focused on an individualized approach to each patient, their comfort, their adaptation and the final result – a cure from cancer, or prolongation of their life, or improvement of their quality of life.
We would like to pay special attention to psychosocial adaptation of patients. This includes not only the help of psychologists, rehabilitation specialists, remote contact with patients and monitoring of their condition, but also the presence of spa centers at some oncology clinics. Assistance also includes the selection of prostheses and accompanying clothing, for example, in the case of a breast amputation, patients are provided with a selection of wigs taking into account alopecia that results from chemotherapy. '
Some of the best cancer clinics have spa centers, where patients have the opportunity to get a massage, receive advice on skin and hair care, order a manicure, pedicure, etc. Moreover, these services are covered by charitable funds, organizations, and donations from private individuals.
Through all of these programs, patients diagnosed with cancer feel fully supported mentally, emotionally and physically. This plays a large part in the success and results of their treatment.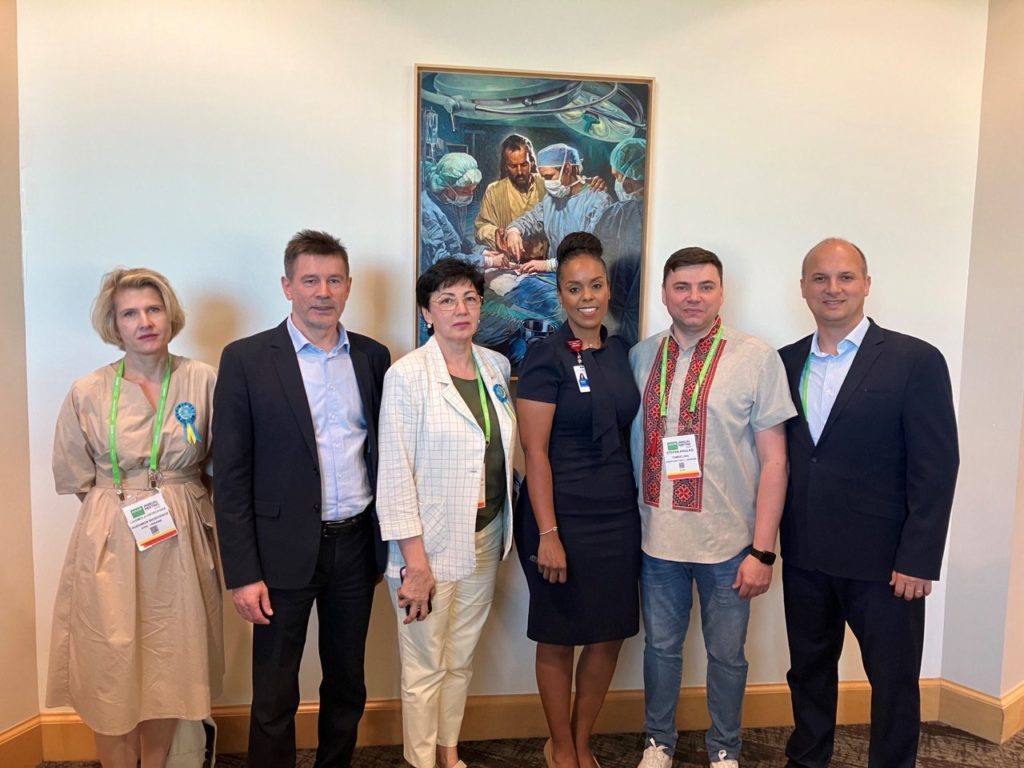 Medical care for cancer patients is provided within the framework of a multidisciplinary approach by a whole team of specialists (medical oncologist, oncologist-surgeon, chemotherapist, radiation oncologist, psychologist, rehabilitation specialist, social worker, narrow specialists, in particular cardio-oncologists) based on the principle of treating not only the body, but also the soul and heart.
Cardio-oncology is a new subspecialty that has been developing rapidly over the last decade. Modern cancer treatment technologies have significantly improved the survival of cancer patients, but the downside of treatment progress has been side effects and reactions. It is cardio-vascular complications that have become the second cause of fatal outcomes in cancer patients, directly after the cancer disease itself. Therefore, stratification of the risk of cardiovascular toxicity before the start of anticancer treatment, risk monitoring during treatment and after its completion are important components of the survival of cancer patients.
The USA is a model for the organization of cardio-oncology care. Every state has a Cardio-Oncology Program. Many large cancer institutes such as MD Anderson, Cleveland Clinic, etc. train and certify specialists in cardio-oncology and develop recommendations. The main task of a cardio-oncologist is to enable an oncologist to carry out the treatment in full and within the prescribed time frame, despite cardiovascular complications.
An important role in the management of patients with cancer diseases is played by a nurse, who takes responsibility for coordinating the patient's route, monitoring tests and other results of additional examinations, and deciding whether to carry out or postpone chemotherapy.
American cancer clinics and universities are ready to organize internships and training not only for doctors, but also for nurses and administrators of cancer institutions.
Unsurpassed impressions remained from the visit to the Research Institute (in Celebration) at the clinic, where we met an active team of scientists who conduct more than 500 studies a year https://www.adventhealthresearchinstitute.com/partner. A modern laboratory, where material collection, testing, processing and storage is carried out according to GLP principles, has the latest equipment for conducting various studies (translational, preclinical, clinical), and also has its own biobank. Joshua Smith, MSc, Senior Laboratory Manager, enthusiastically gave us a tour and shared information that patients in the US are happy to participate in research studies (preclinical, clinical), leave samples of blood and other biological fluids, tissues for biobanking and research, because they believe that it contributes to the development of science and medicine and helps fight cancer and other chronic diseases.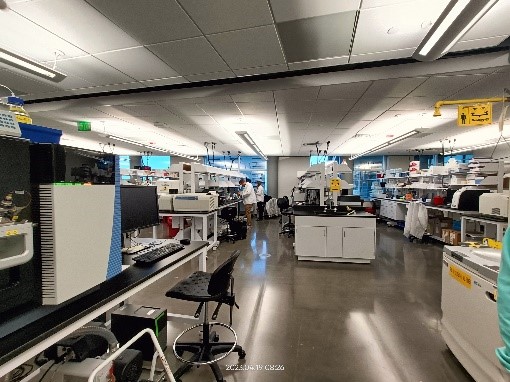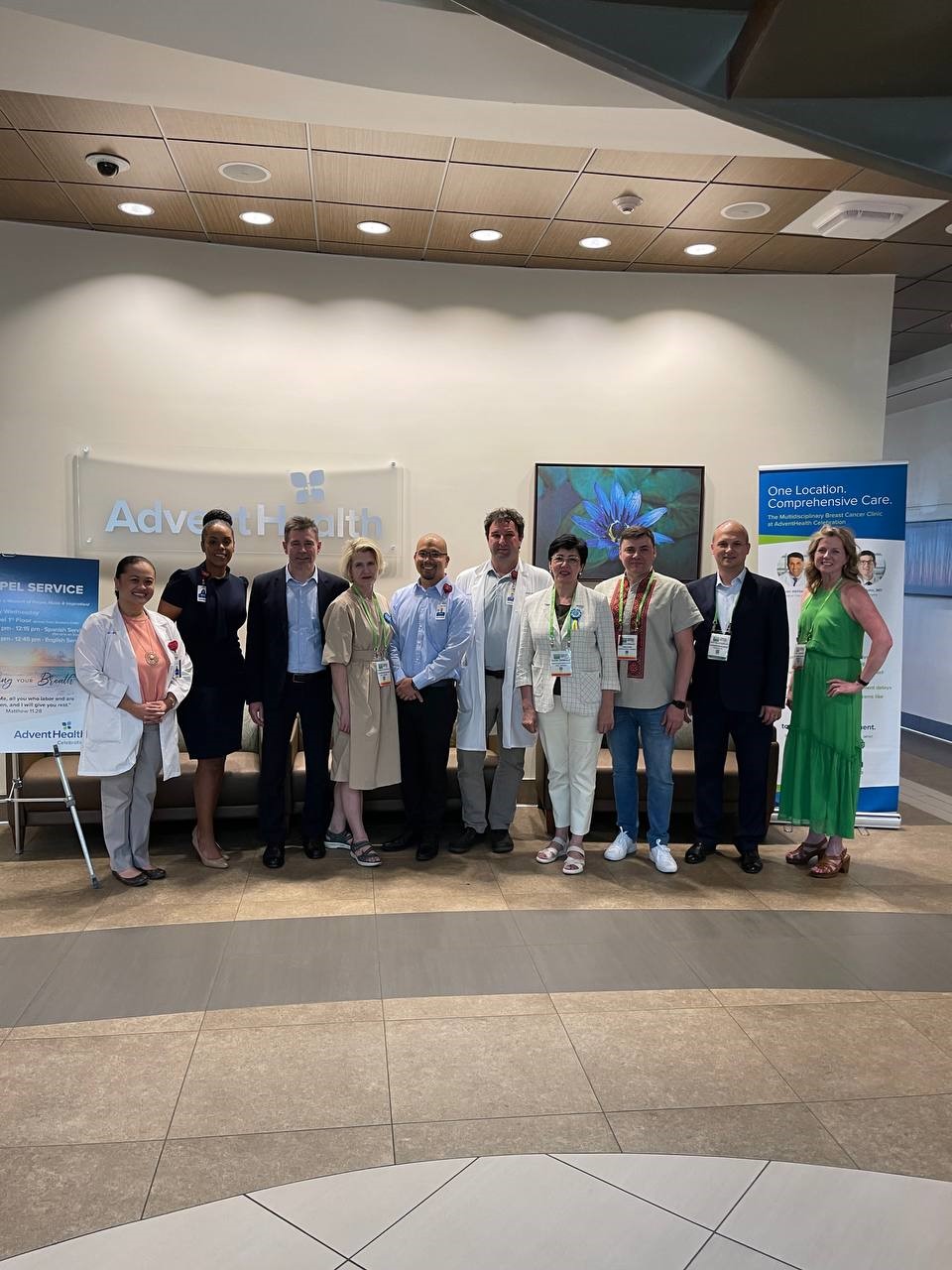 As a result, attendance of the AACR Congress 2023 and numerous meetings contributed to the following tentative agreements:
Possibility of internships/observerships in leading cancer clinics;
Participation in oncology congresses, conferences;
Training/facilitation of scientific publications in scientometric journals;
Training in the preparation of grant applications;
Adaptation of oncological recommendations for Ukraine.
We are convinced that the initiated cooperation with leading institutions, organizations and clinics will help improve the provision of care to cancer patients, initiate educational and scientific cooperation for the development of cancer research in Ukraine and heighten the level of cancer diagnosis and treatment, as well as improve the quality of life of cancer patients.